Get your cup of Joe
Keurig machines are ubiquitous favorites among coffee lovers of all types. These appliances have skyrocketed in popularity in recent years, thanks to their convenience, ease of use and availability.
With kitchen real estate at a premium, however, it can still be challenging to determine which Keurig machine will fit in amongst many countertop appliances.
Thankfully, Keurig coffee makers are offered in a wide range of styles, sizes and configurations, making access to quick, hot coffee a breeze even in the smallest of living spaces.
Shop this article: Keurig K-Express Coffee Maker, Keurig K-Mini Plus Coffee Maker and Keurig K-Compact Single-Serve Coffee Maker
Keurig coffee maker benefits
Cleanliness
Traditional coffee makers require you to pour loose grounds into a filter-lined cup that has to be emptied after brewing. In cramped spaces, it's easy to accidentally spill grounds and create a mess that turns your morning coffee into a morning chore. Transferring wet, soggy grounds and filters from your appliance to the trash poses the same risk. Keurig machines contain their grounds in sealed, disposable K-Cups, completely eliminating the chance of a spill.
Silent operation
While not particularly noisy in the first place, some Keurig machines have a mode that allows them to brew coffee silently. This is a welcome feature in shared living situations where roommates want to be careful not to wake one another as they prepare to leave for the day.
Beverage variety
Keurig machines are ideal if you like to try different coffee types and flavors without hassle. You can even brew tea or hot chocolate if you're not in the mood for coffee. A Keurig machine lets you select and swap your preferred drink instantly, thanks to the staggering variety of K-Cups available.
No wasted grounds
K-cups are pre-measured, so you will never make more coffee than you intend to. They are also individually sealed, so they have a longer shelf life than an open bag of traditional grounds.
What to consider while looking for a Keurig machine
Size
Think about the space you have available for a countertop appliance. While many Keurig machines have small footprints, some are built to take up as little room as possible. You may even want to measure the area where you intend to place your machine and then check the manufacturer's dimensions to ensure that it will fit comfortably.
Brew amount
Keurig machines are designed to brew just enough coffee for one person. If you wish to share coffee with a roommate, invest in a machine that allows you to use a carafe that can hold more than one cup.
Controls
Small Keurig machines generally sacrifice control options to maintain their size, so most models only include a few buttons and basic operation. If you want more customization of the temperature and strength of your brew, you may need to invest in a slightly larger machine that has more features.
Aesthetics
Most people like their appliances to match. Keurig delivers, thanks to the wide range of color and style options they offer. From fun, quirky designs to elegant stainless steel, there is a machine to compliment any decor.
Best Keurig coffee makers for small spaces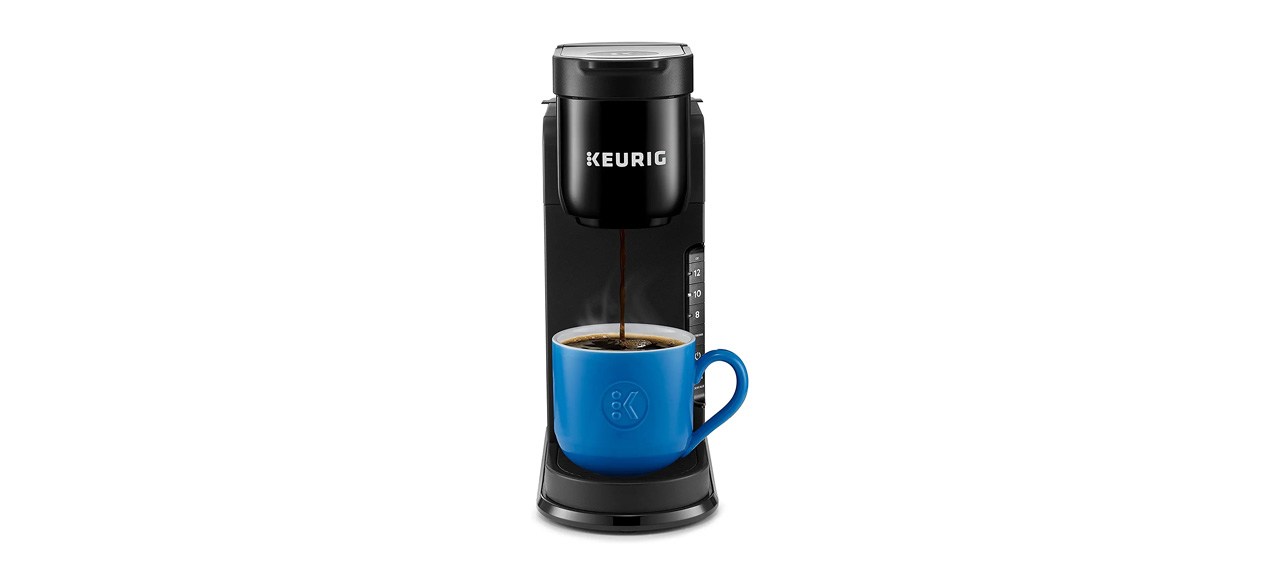 This convenient Keurig machine lets you customize the strength and temperature of your beverage. You can choose from three different liquid amounts and its removable drip tray lets you fill up tall travel mugs mess-free.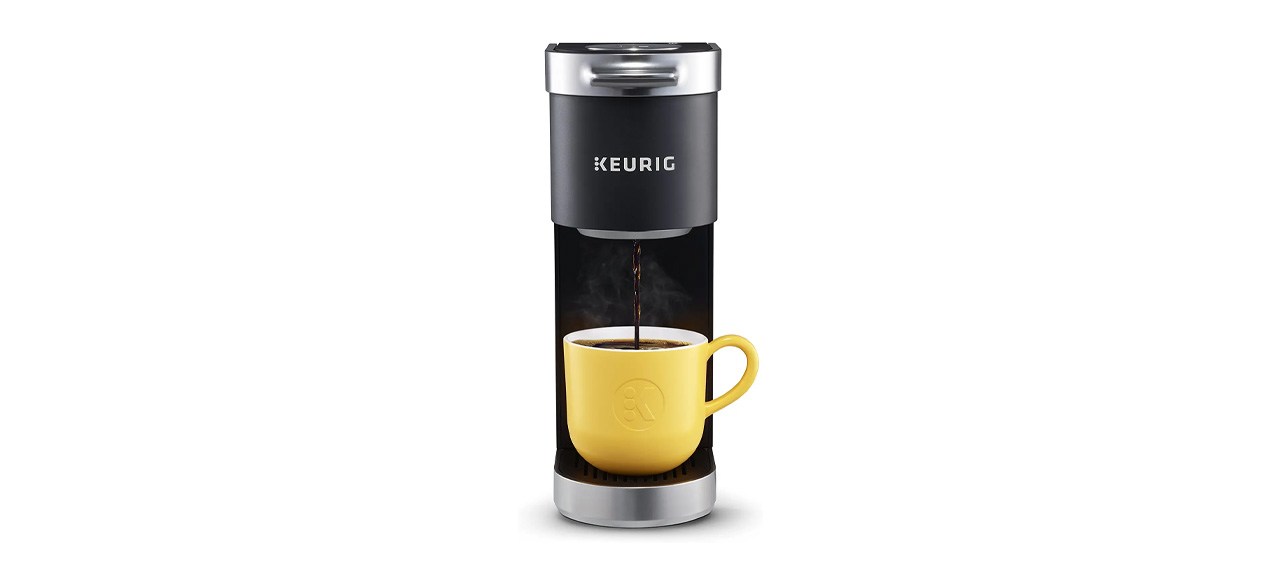 Keurig K-Mini Plus Coffee Maker
You can store up to nine K-Cups inside this machine, which also features a removable water reservoir for easy rinsing. Brushed metal accents and seven different color options make this pod coffee maker fit right in with the rest of your kitchen appliances.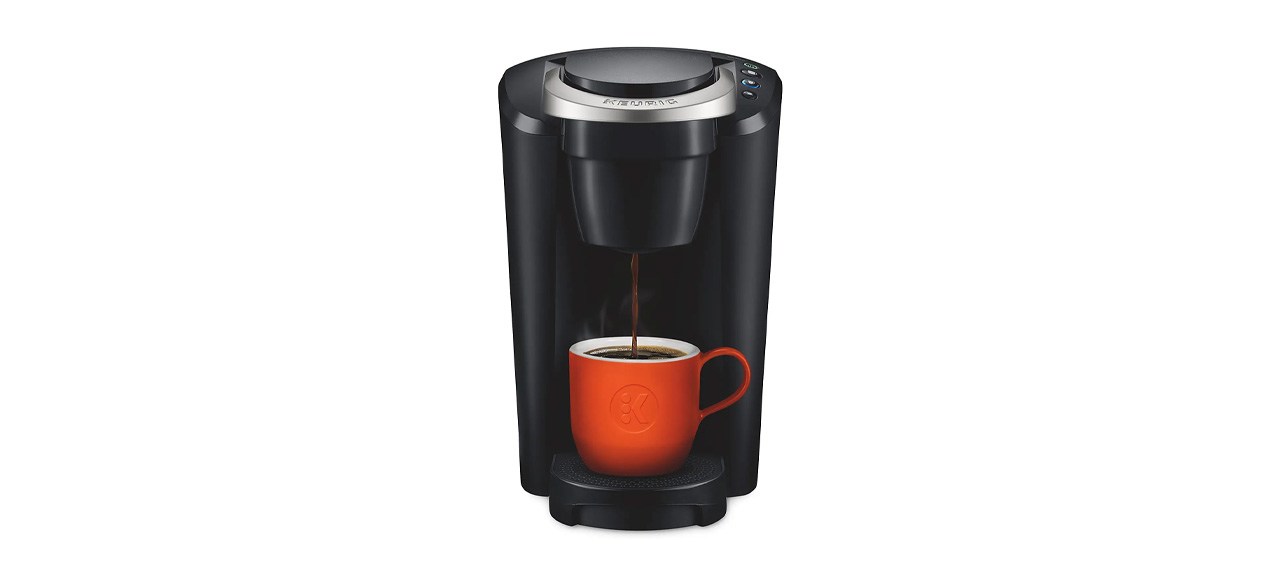 Keurig K-Compact Single-Serve Coffee Maker
Keurig's slimmest machine, this option features simple controls and shuts off automatically after use. It brews coffee in less than a minute and can fill traditional or travel mugs.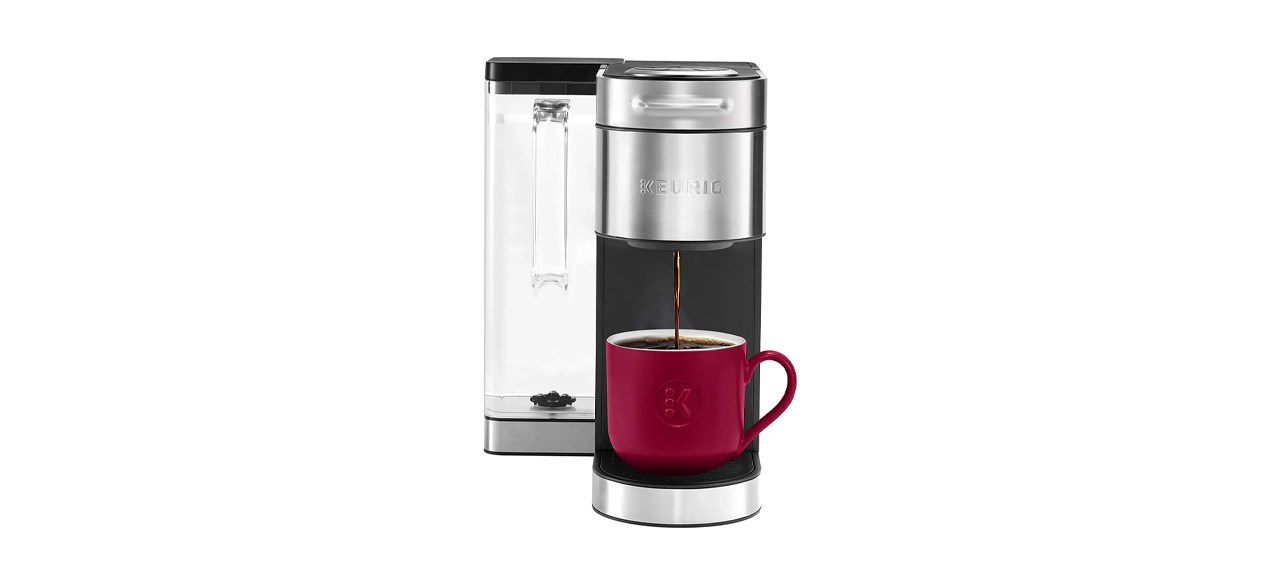 Keurig K-Supreme Plus Coffee Maker
This compact Keurig machine is packed with features and has a classy, premium look. It allows for five cup sizes and features the brand's MultiStream Technology, which extracts more flavor and aroma from each brew.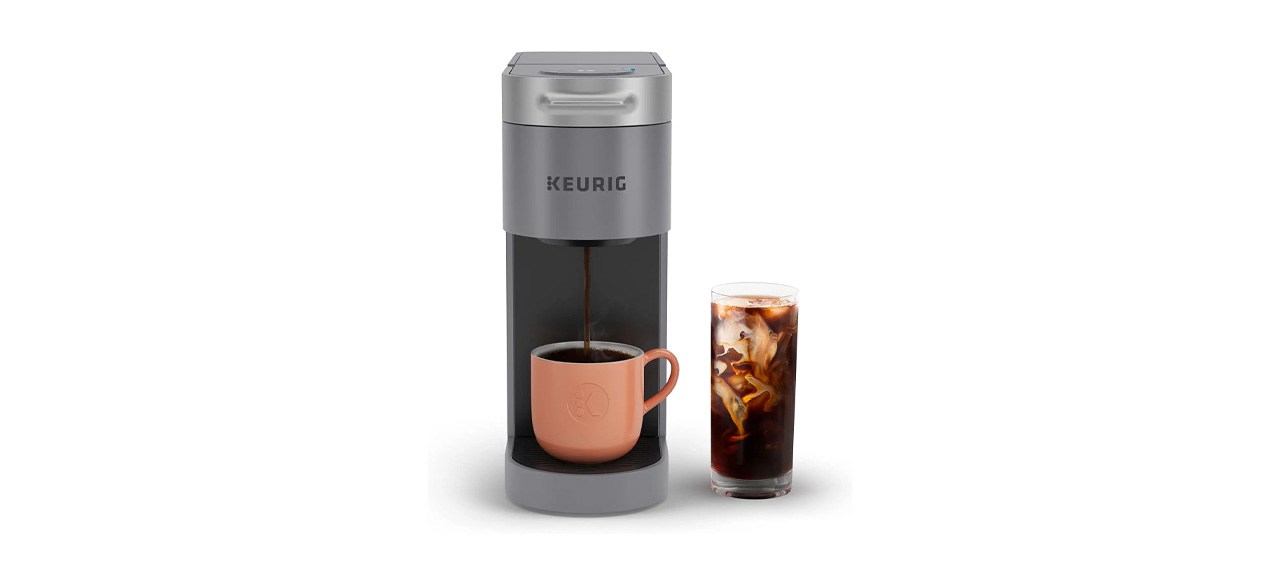 Keurig K-Slim + Iced Single-Serve Coffee Maker
If you prefer your coffee iced, this machine brews hot and then lowers the temperature of the liquid before dispensing it for a superior chilled beverage. It's less than 5 inches wide and comes in an attractive, satin gray finish.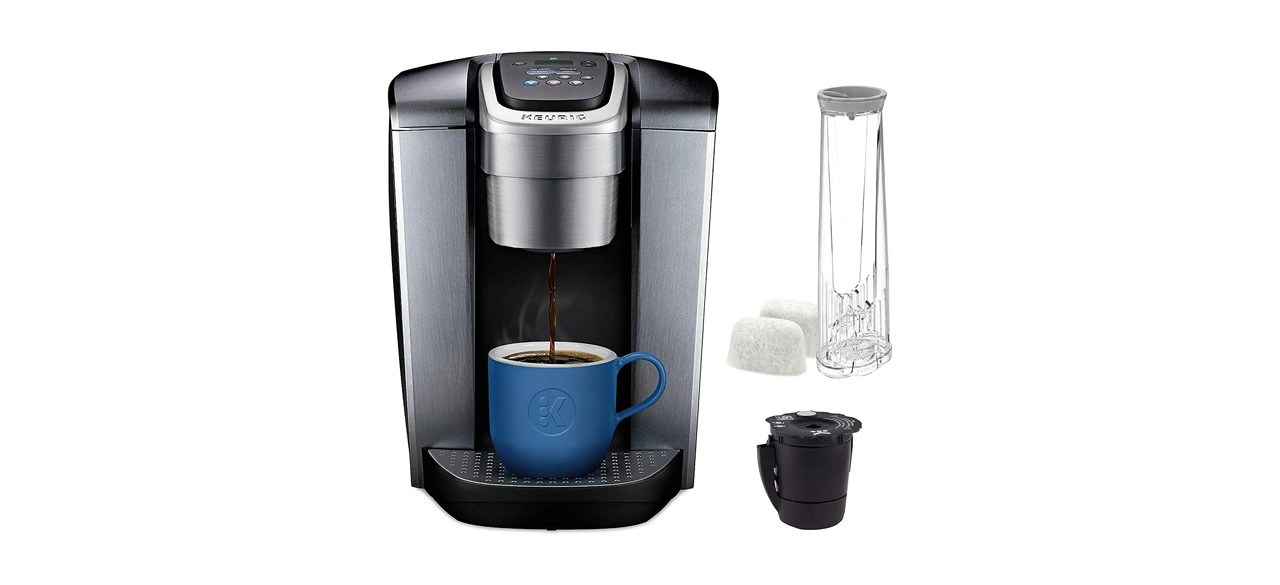 For those who want more control over their coffee, this machine features an LED screen, altitude adjustment options and the ability to dispense perfectly brewed iced coffee. It also has a hot water button that you can use to make instant soups or oatmeal quickly.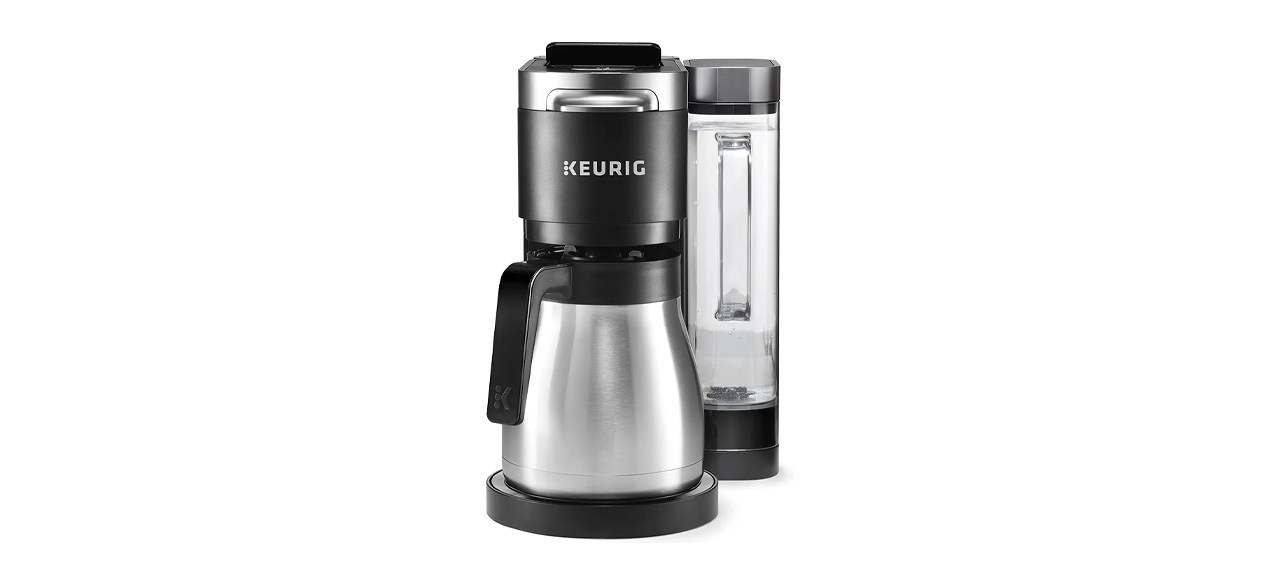 Keurig K-Duo Plus Coffee Maker
You can mount this coffee maker's water reservoir on the back or on either side to accommodate limited counter space. It also includes a 12-cup carafe that can keep your coffee hot for up to two hours.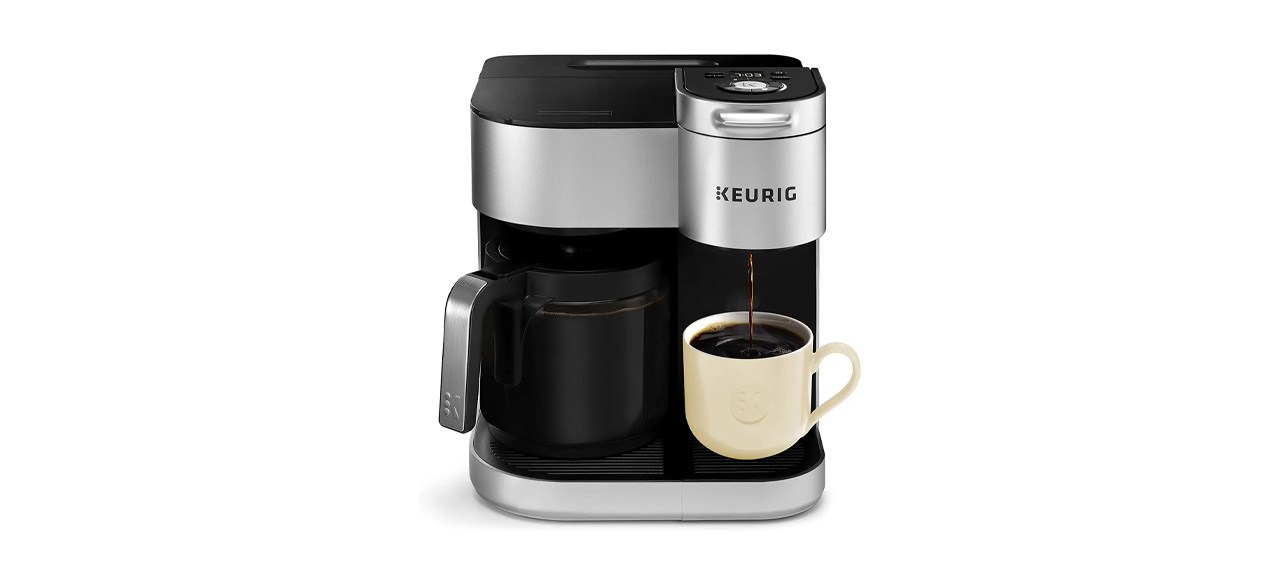 Keurig K-Duo Special Edition Coffee Maker
For those with the space, this flexible coffee maker is great for entertaining. It gives you the option to brew a single mug of coffee or fill a carafe using traditional grounds.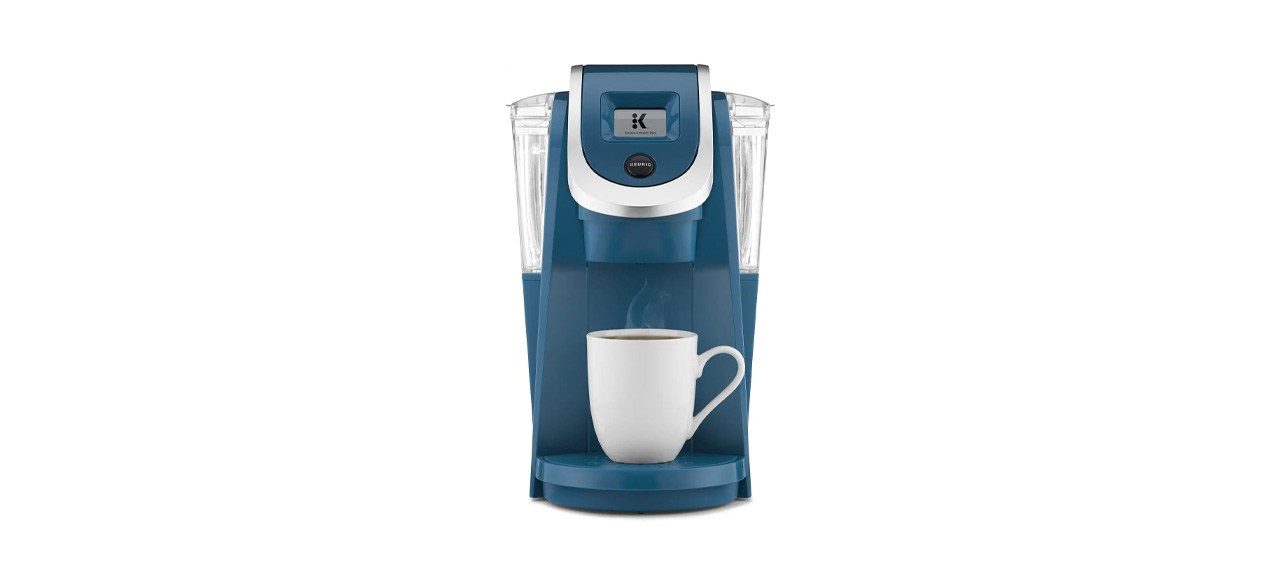 Sleek and high-tech, this coffee maker features a backlit screen for easy menu navigation. It comes with a K-Cup variety pack, two water filters and descale solution for removing hard water deposits.
Want to shop the best products at the best prices? Check out Daily Deals from BestReviews.
Sign up here to receive the BestReviews weekly newsletter for useful advice on new products and noteworthy deals.
Derek Walborn writes for BestReviews. BestReviews has helped millions of consumers simplify their purchasing decisions, saving them time and money.
Copyright 2023 BestReviews, a Nexstar company. All rights reserved.