Local News
Number of structures destroyed by lava climbs to 82
PUNA (KHON2) - There were three explosions from Overlook Crater early Saturday morning at 12:42 a.m., 1:44 a.m., and 5:00 a.m. that produced ash clouds to between 10,000 and 11,000 feet above sea level.
The National Weather Service Nexrad radar indicated that the ash quickly dispersed.
Lava flow activity continues in the East Rift Zone of Kilauea. The flow in Leilani Estates has slowed its advance and is 150 yards from Pohoiki Road. The flows to the South continue to enter the ocean near MacKenzie State Park.
On Friday, officials confirmed the total number of structures destroyed by lava now stands at 82.
Hawaii County Civil Defense administrator Talmadge Magno says 37 additional structures have been isolated, rendered inaccessible by lava flow.
Free N95 masks will be distributed on Saturday, May 26, from 9 a.m. to 1 p.m. at the following locations:
Pahala Gym Annex, Pahala
Naalehu Nutrition Center, Naalehu
Cooper Center, Volcano
Hawaiian Ocean View Community Center
Shipman Gym, Keaau
Free masks will be made available to all families including those who picked up masks last week. N95 masks do NOT protect against gases and vapors.
It's been three weeks since the eruptions began and activity shows no signs of stopping. Officials say so far 2,220 acres are covered in lava.
Hawaiian Volcano Observatory says a new ash eruption at Kilauea summit created a 10,000 foot plume.
It happened Thursday at 6 p.m.
Scientists say the wind may carry the ash southwest to Pahala.
As of Thursday, three lava flows are entering the water between Pohoiki Bay and MacKenzie State Park (Highway 137 mile markers 12 to 14), with two of them merging into a larger flow before they reach the ocean.
Lava eruption continues in the area of Leilani Estates and Lanipuna Gardens from Fissure 22, which is feeding the two other ocean entries.
Fissure 7 reactivated Thursday morning and is actively fountaining lava. The flow is moving towards the east into Leilani Estates. So far, it has covered Kaupili and Mohala Streets, between Leilani Avenue and the fissure line.
Hawaii County officials say 23 fissures have opened in Leilani Estates since Thursday, May 3.
Click here for an interactive map.
Another small explosion occurred from the summit of Kilauea around 12:18 a.m. Wednesday.
Methane was observed burning in road cracks overnight.
The ocean entry remains active and is producing occasional small explosions.
Hawaii County Civil Defense is warning that residents in areas downrift from the flow need to stay alert and prepare for voluntary evacuation if necessary.
County, state, and federal partners have been collaborating closely with Puna Geothermal Venture to ensure the safety of the surrounding communities and monitor for sulfur dioxide and hydrogen sulfide.
There is no hydrogen sulfide detected at this time.
Related Story: Concerns over Puna Geothermal Venture grow as lava reaches property's edge
Because lava has entered the ocean, be aware of laze hazard and stay away from any ocean plume.
Laze is when hot lava hits the ocean sending hydrochloric acid and steam with fine glass particles into the air.
This hot, corrosive gas mixture caused two deaths immediately adjacent to the coastal entry point in 2000, when seawater washed across recent and active lava flows. Laze can cause skin and eye irritation and breathing difficulties.
Also be aware that the laze plume travels with the wind and can change direction without warning.
The Coast Guard is enforcing a Lava Entry Safety Zone for the navigable waters surrounding active lava flow entries extending 300 meters in all directions.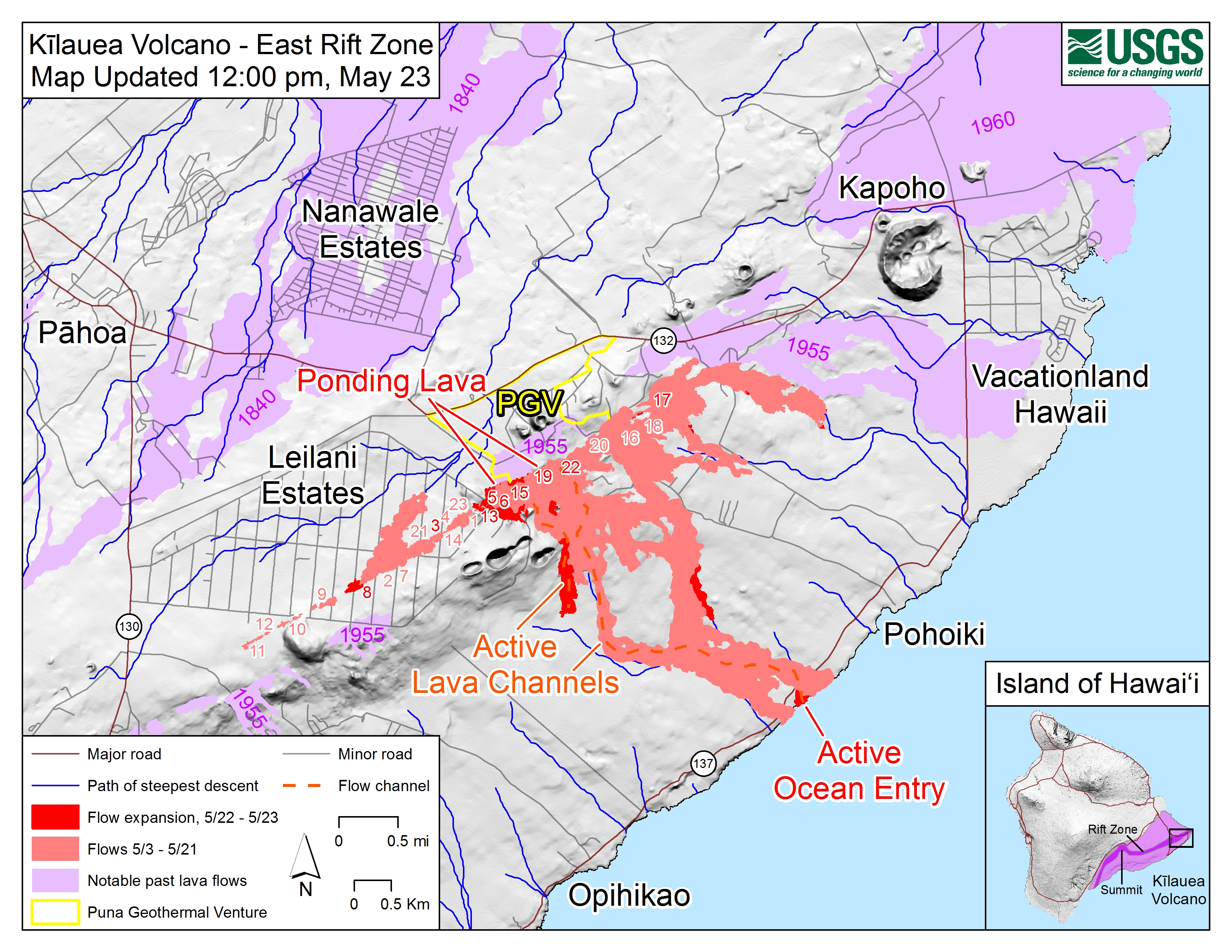 Highways 132 and 130 are open to local traffic only. Closures may occur at any time with no notice. Pohoiki Road is closed.
Due to the volcanic activity, the following are in effect:
Residents between Kamaili and Pohoiki are advised to decide if they want to voluntarily leave the area at this time.
For those who choose to voluntarily evacuate, the Pahoa Community Center, Keaau Community Center, and Sure Foundation Church are open. The shelters are pet friendly.
All persons are asked to avoid the area.
The Fire Department and HVO will be actively monitoring the flows by helicopter.
Residents of these areas are reminded to protect yourself from ash fallout by remaining indoors or by using dust masks.
Related Story: People evacuated by helicopter from neighborhood isolated by fast-moving lava
Civil Defense gives the following tips if you are in an area affected by ashfall.
If you are at home, stay indoors with the windows closed. Turn on your radio and listen for updates from authorities.
If you are in your car, keep the windows closed. Ash fallout may cause poor driving conditions, due to limited visibility and slippery driving conditions. Drive with extreme caution, or pull over and park.
After the hazard has passed, do check your home, and especially your catchment system for any impact that may affect your water quality.
Here are some tips on what to do if your catchment system is impacted by ashfall.
Due to the toxic gas hazard in the affected area, the following are issued:
Leaving the area of SO2 inundation is the best way to protect yourself and your family.
Seek medical attention if severely affected.
Related Link: University of Hawaii's Vog Measurement and Prediction Project
Related Story: How to protect yourself from sulfur dioxide in vog, acid rain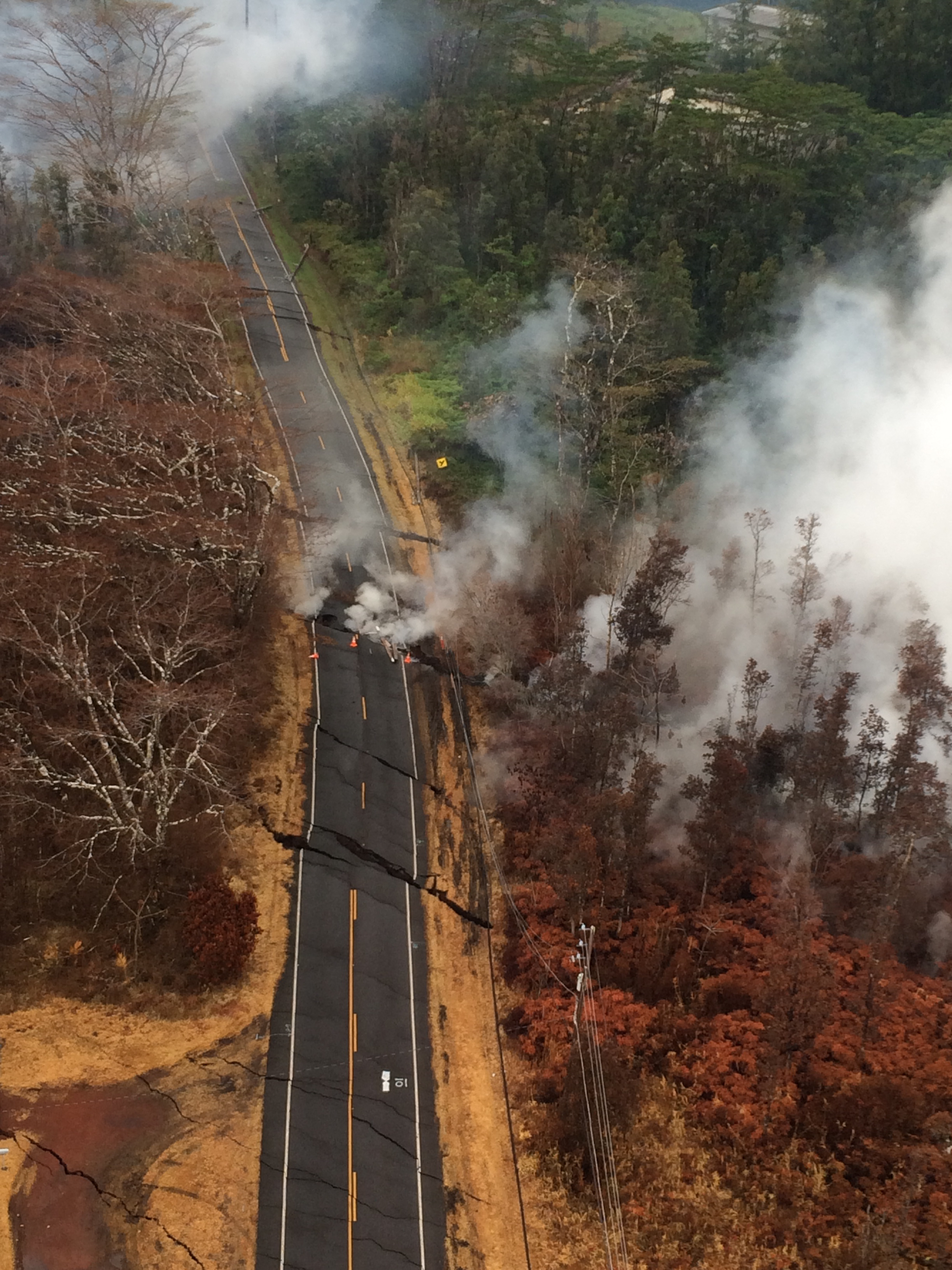 Earthquake activity and ground deformation continue and additional outbreaks in the general area of Leilani Estates are expected.
According to the U.S. Geological Survey's Hawaiian Volcano Observatory, the East Rift Zone intrusion and seismic activity appears to be moving downrift in a northeast direction. Hazardous fumes continue to be released from existing cracks and fissures.
The location of future outbreaks can't be predicted, but could include areas both uprift (southwest) and downrift (northeast) of the existing fissures, or resumption of activity at existing fissures. Communities downslope of these fissures could be at risk from lava inundation.
As a precautionary measure, residents of lower Puna, between Kapoho and Kalapana, are advised to be on the alert in the event of possible gas emissions and volcanic eruption. Because there may be little to no advance notice to evacuate, you should be prepared to evacuate at short notice. Take this time to prepare.
Related Story: National Guard plans for mass evacuations should more eruptions occur
If you evacuate voluntarily, the Pahoa Community Center and Keaau Community Center are open. Food will be provided and the shelters are pet-friendly. Click here for more information.
All beach parks in lower Puna have been closed, including the Pohoiki Boat Ramp.
Most of Hawaii Volcanoes National Park is now closed. Officials say it's possible for a steam-induced explosion to occur at the summit of Kilauea Volcano due to the receding lava lake.
Should such an explosion occur, officials say the ensuing ash fall and southerly wind patterns would also create a public safety threat.
Related Story: Fear of steam-induced explosion prompts closure of Hawaii Volcanoes National Park
Related Story: Closures due to Kilauea Volcano's latest eruption
Assistance for displaced residents
Leilani Estates residents will still be allowed to check on their property from 7 a.m. to 6 p.m. each day until further notice, conditions permitting. Residents will be required to provide identification and proof of residency in the subdivision.
A Recovery Information and Assistance Center (RIAC) will be open at Pahoa Community Center, Mondays through Fridays, 9 a.m. to 3 p.m. Residents can go there to register for entry placards if they wish to retrieve personal items.
"We've got to make sure we vet everybody as far as making sure that the actual residents or homeowners or renters are going in there and nothing else is happening," said Magno.
Want to donate? How you can help families displaced by lava
The Hawaii County Police Department and the Prosecutor's Office have established a policy of zero tolerance towards looting or vandalism. Under Emergency Provisions, any looting or vandalism will be treated as a felony.
Related Story: Pahoa man accused of looting several homes during lava-related evacuation
Officials urge all visitors to avoid the Leilani Estates area. Sightseeing is not allowed for safety reasons.
A Temporary Flight Restriction is in effect. All aviation requests are administered by the Hawaii Fire Department.
Residents reflect on disaster